Geotagging photos with GeoSetter
tip
This is the second part of a guide describing the PPK mapping workflow with Reach. It implies you already have raw logs from both base and rover, set of images, and Ground Control Points. If you don't, please check the previous part first.
In this guide, we are preparing set of images for processing in a photogrammetric software.
Post-processing
First, we should post-process raw data logs from base and rover in RTKLib. You can use this guide to accomplish it. The result is the *_event.pos file containing the list of accurate positions of each photo.
Convert the *_event.pos file to *_event.gpx:
Open RTKPost and hit on KML/GPX... button
Tap GPX option
In the Output Altitude field, choose Ellipsoidal altitude
In the Output Time field, choose UTC or GPST time depending on which is required
Click on Input/Output/GE Exe File and browse for the *_event.pos
Hit Convert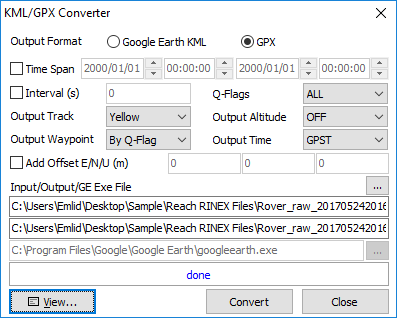 Photo geotagging with GeoSetter
Once we have the list of coordinates for each photo, we need to match it with our set of images.
To geotag photos, we use the GeoSetter. It's a freeware Windows tool allowing to add coordinates to images' metadata.
Open the File menu and choose Open folder option to browse for the folder with photos
Enable the Tracks window by opening the View menu and hitting on Tracks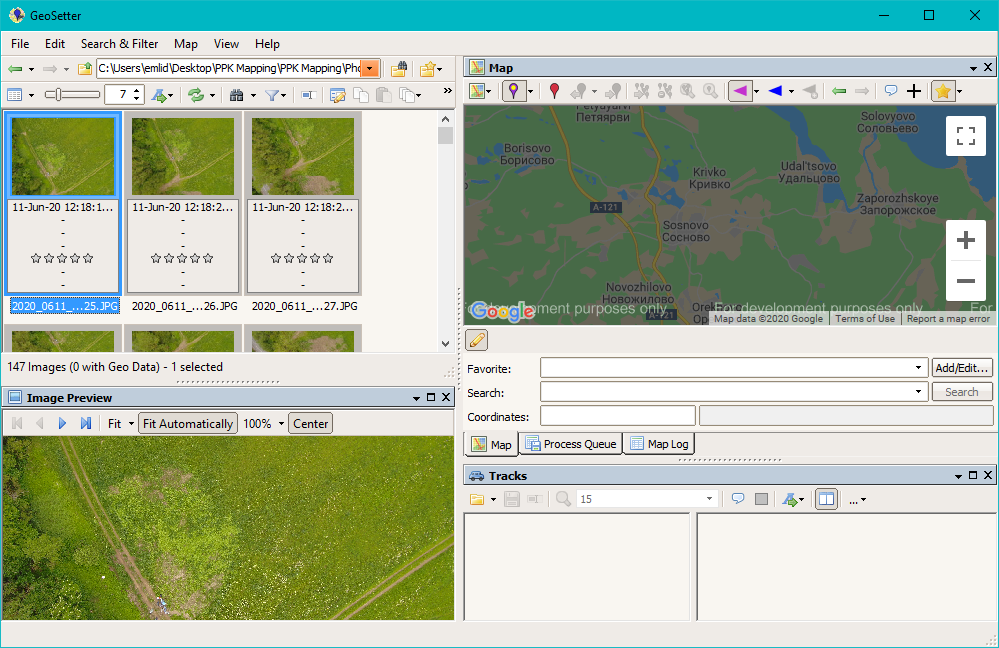 In the left top corner of Tracks window, click on the folder button and browse for *_events.gpx file that was converted earlier
In the right top corner of Tracks window, enable the Show list of track points button to display the list of all the tracks
Select the track in the list of coordinates. The track appears as a red marker on the Map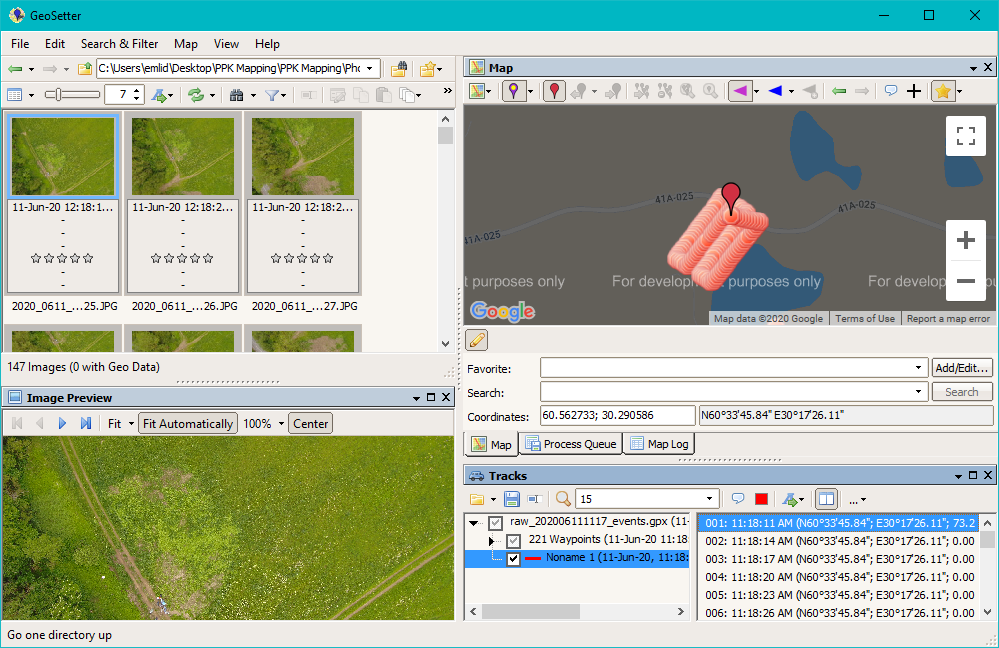 Select all the images. Make sure that in the information bar all images are marked as selected
Open the Edit menu and click on the Synchronize with GPS Data Files option. The Synchronize with GPS Data Files window appears
In the Time Adjustment field, choose Use Track Point From Map option and hit on OK. The modal window appears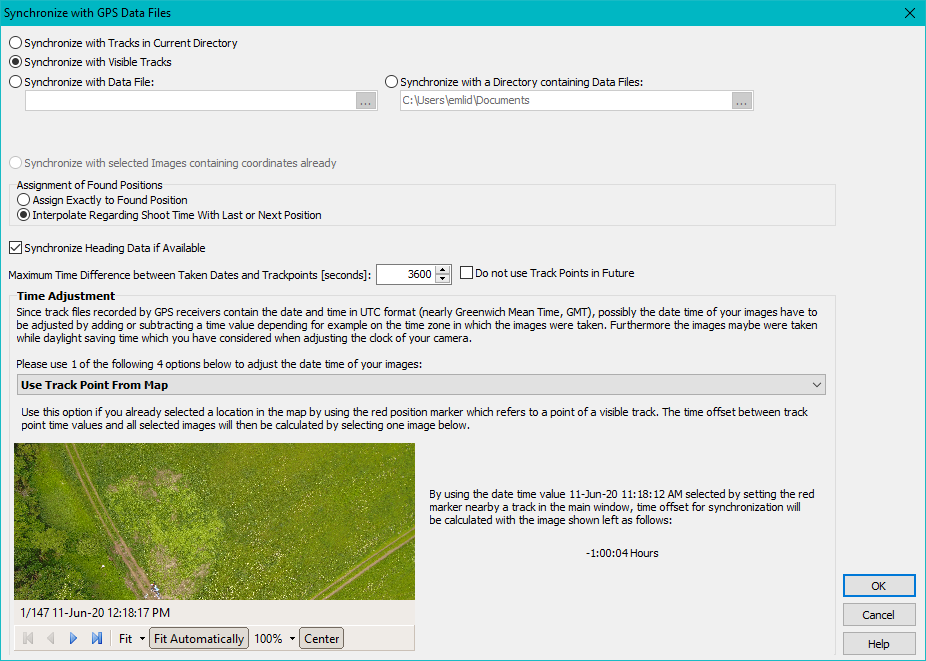 Make sure that the number of images in the modal window is equal to the quantity of all selected images and press Yes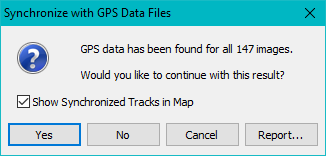 Now, time-marks are synchronized with GPS data. As a result, a position marker for each photo is displayed on a map. To save the geolocation into the image EXIF data, open the Edit menu and choose Save changes option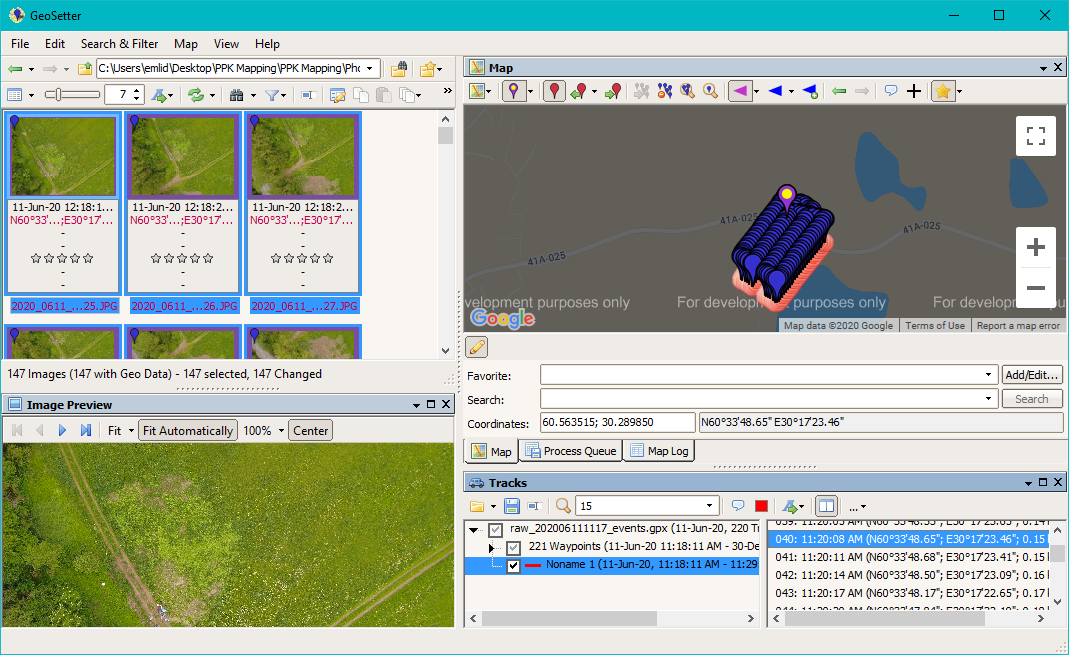 Now you can import this set of images to any mapping software, such as Agisoft Metashape, DroneDeploy, Pix4d, etc. In this guide, we will use the Pix4D software to create a map.
Further reading: